Temple Timings: Daily 08:30 AM - 09:00 PM
08:45 AM - Kakad Aarti
09:15 AM - Baba Abhishekam
09:30 AM - Shiva Abhishekam
10:00 AM - Archana
10:15 AM - Navagraha Abhishekam
12:00 PM - Madhyan or Madhyana Aarthi
06:00 PM - Dhoop Aarti
06:45 PM - Abhishekam to Baba Utsava Vigraham (Thursdays Only)
08:00 PM - Pallaki Seva (Thursdays - Summer - weather permitting)
08:15 PM - Sai Chalisa
08:30 PM-Shej Arathi(Thursday 08:45 PM)
Welcome to Sri Shirdi Saibaba Temple
9. If you cast your burden on me, I shall surely bear it.

10. If you seek my advice and help, it shall be given to you once.

11. There shall be no want in the house of my devotees.
1. Whoever puts hid feet on shirdi soil, his suffering would come to an end.

2. The wretched amd miserable would rise into plenty of joy and happiness, as soon as soon as they climb steps of my samadhi.
3. I shall be ever active and vigorous even after leaving this earthly body.

4. My tomb shall bless and speak to the needs of my devotees.
5. I shall be active vigorous even from the tomb.

6. My mortal remains would speak from the tomb.
7. I am ever living to help and guide all who come to me, who surrender to me and who speak refuge in me.

8. If u look to me, I look to you.
Sri Shirdi Saibaba Temple Pooja Schedule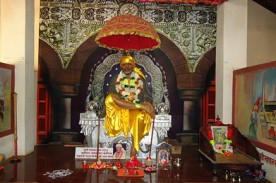 08:45 AM - Kakad Aarti
09:15 AM - Baba Abhishekam
09:30 AM - Shiva Abhishekam
10:00 AM - Archana
10:15 AM - Navagraha Abhishekam
12:00 PM - Mid Day Aarti
06:00 PM - Dhoop Aarti
07:00 PM - Baba Abhishekam (On Thursdays Small Baba Idol )
08:00 PM - Pallaki Seva (Thursdays - Summer - weather permitting)
08:15 PM - Sai Chalisa
08:30 PM - Shej Aarti (9.00 PM on Thursdays)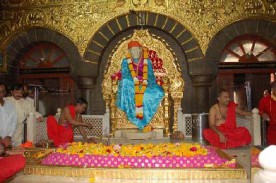 Monday - Shiva Rudrabhishekam @7:00PM
Tuesday - Hanuman Chalisa @6:30PM
Friday - Lalitha Sahasranamam @6:30PM
Saturday - Vishnu Sahasranamam@6:30PM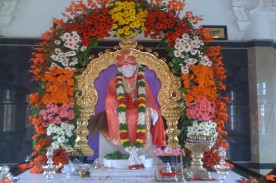 Satyanarayana Vratham - Full Moon Day
Sai Satya Vratham - 2nd Saturday
Sai Durbar - 3rd Saturday
All day Satcharita Parayana - Last Saturday
Sankatahara Chathurdhi - 4th day Following Full Moon